Why CBTL
E-Learning for your company
CBTL GmbH
Everything from one source
With our comprehensive portfolio of services, we have been one of the leading providers of content solutions for the implementation of e-learning and assessment since 1999.
Our Services
As a premium provider in the e-learning industry, we offer our customers the highest level of professionalism and quality.
Authoring tools
As a leading e-learning company, we offer our proprietary, award-winning, authoring and production platform.
The SATELLITE platform provides a suite of tools for authoring, translation, localisation and quality assurance, including two editors: FAST-TRAIN and EVOLUTION³.
EVOLUTION³ is a very powerful authoring tool that gives experts full control of the creation and editing or e-learning courses.
With FAST-TRAIN we have created an interface with streamlined functions and optimised settings that is suitable even for inexperienced users.
For example, the FAST-TRAIN editor can be used to convert existing materials into learning nuggets to share online without the need of an LMS. With the EVOLUTION³ editor, an expert can refine courses and content created in FAST-TRAIN into sophisticated chapterised content and assessments.
Content creation
We do not see ourselves as a software provider, but rather as an e-learning content service provider that places the greatest value on the educational quality of the learning content, courses and assessments that are created using our platform. Our experienced e-learning experts, instructional designers, as well as technicians and media designers, are happy to take over the complete creation, maintenance, updating and localisation of your learning content as a complete business process outsourcing service.
Custom Content
WBT, CBT, App, eBook, Print …
SCORM, AICC … (all LMS)
HTML5 Content (all devices)
Services
Our in-house support team provides you with a direct contact person who will help you promptly and competently with technical questions about our authoring tools. In addition, we also offer you support services in the areas of instructional design, storyboarding, content navigation, learner interactions, assessment, LMS reporting, and, of course, template development.
We offer various training courses on how to use our authoring tools. The modular training courses build on each other, so that, depending on the desired scope or complexity of content creation, the appropriate techniques and ideas for your requirement are taught.
High quality media will make your e-learning course the one that your employees talk about. Recordings, music, film and graphics complement text based content to significantly increase learner engagement. Even if we are not working with you to produce a particular course, you can request media creation, editing or optimisation services from us.
Consulting
As a company all about learning and development, as well as customer and product training, we support companies in the planning, creation and roll-out of state-of-the-art learning content. In doing so, we advise our customers on the design and implementation of specific e-learning strategies, helping ensure that your have the best possible e-learning solutions in place.
Our Tool Suite
Our authoring tools are constantly being developed and optimised so that they adapt to the needs of users and new technical developments as they emerge.
SATELLITE
SATELLITE is the unique authoring solution – one system with different user interfaces:
The authoring tool for knowledge workers
Easy to use (WYSIWYG editor)
Template based
PowerPoint import
The authoring tool for e-learning experts
Design freedom
Huge feature set
Excel import (e.g. test questions)
Assistance Tools
SATELLITE includes tools for specialised tasks:
Quality control and acceptance testing directly in the tool (rather than publishing for review)
Incl. messaging, tasks and screenshots
Translations and text changes via a special user interface
Incl. messaging, tasks and screenshots
Create/manage milestones and tasks
Calendar function
Online Collaboration
SATELLITE is designed for team-based project work. This allows teams of any size, distributed around the world, to work on different tasks in the same project simultaneously. When doing so, project participants only have access to the tools defined for their team role.
Simultaneous working for project team members in the same course
Powerful and flexible roles and rights management
Locking and release of individual pages, chapters or courses for editing
Projects/courses are always up to date

for all project participants

Project based filing system for your media (images, audios, videos, documents, …)
Easier integration of external service providers (e.g. agencies, translators)
Assessments
Many different assessment scenarios are supported by SATELLITE. This greatly simplifies the creation of assessment tests.
Tests with different exercise types
Drawing from any number of question pools possible (e.g. topic, difficulty, random or compulsory questions)
Subsequent expansion of tests with new or revised questions or even question pools
Import of test questions via Excel file possible (saving time for test creation)
Collaboration
Depending on your skills and available resources, CBTL can provide the capability and capacity to produce the learning content you need.
Key Account Manager & Support Team
CBTL offers its customers a dedicated key account manager and an in-house support team based at our headquarters in Munich. This ensures fast response times and fluent communication between key account managers, our support team and our development team.
Flexibility
We develop our tool entirely in-house, this allows for far greater flexibility in supporting individual customer requests.
Services
We offer a wide range of services from simple technical support for users to the full creation of entire e-learning programmes and we are happy to offer any kind of collaboration in between.
Third-party agencies
We are used to supporting not only the team members within a client's organisation, but also the third-party agencies working on behalf of the client.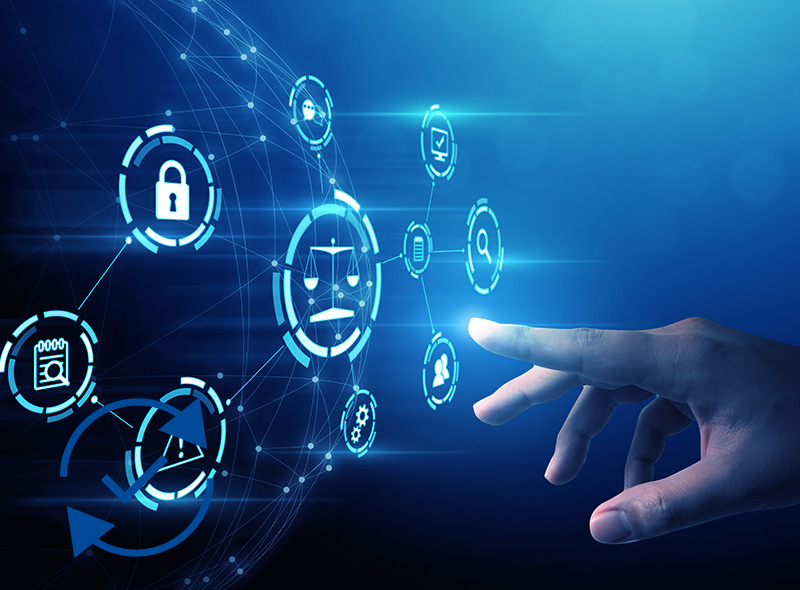 Data protection & IT security
We guarantee information security and data protection according to GDPR in all the production steps of content creation.
Internal & External Audits
No installation necessary
The EVOLUTION³ and FAST-TRAIN applications are 100% browser-based, which means no installation is required on client computers.
Open Web Standards
CBTL SATELLITE is a highly secure application platform built on open web standards.
Certified data centers
For our customers with high data protection needs, we offer dedicated servers in ISO27001-certified data centers in the EU. It is always clear where the data is hosted and stored for data exchange, content creation, translation and review processes.
No telemetry data
User interactions on the Platform are logged to the extent necessary for IT security purposes. However, the application running in the browser does not collect or send to us any telemetry or usage data relating to the client PC. Logging, data storage and backup, and retention/deletion periods can be set up according to client requirements.
Flexibility & Sustainability
Being able to publish a wide variety of content from a single source is one of the main reasons for implementing a strategic, centralised approach to learning content production across all departments. With SATELLITE you can create complete learning programmes with all associated media, learning and teaching materials within a single project.
Template based production
For SATELLITE numerous templates have already been created for different course and assessment situations. This greatly simplifies the creation of learning content:
Time saving due to a large number of sophisticated presentation, interaction and exercise templates
Customisation and user editing of templated designs is possible at any time
Template free working starting with an empty page is of course possible
Expandable with additional custom-built templates to meet your specific requirements
Brand switching: courses can be switched between several different brand layouts conforming to CI specifications
Control over the interactivity within presentations and exercises of videos, 360°, panoramas, 3D objects and much more.
Adaptability
The combination of powerful editors with sophisticated templates whose functionality can be extensively customized allows customers to benefit from the continuous development of our standard platform while receiving a customized, templated application that always meets their requirements.
New features created for one brand or organisation within a larger enterprise can be easily customised and shared with other organisations within the same company or group.
All elements of our player can be fully customized to match a client's CI requirements, and the layout change feature allows switching between different brand themes and layouts within a company.
Modularisation
Using the layout change function, modules or parts of modules such as chapters or pages created for one brand can be converted to another brand
The integrated data exchange manager makes it easy to copy pages or entire chapters or courses from one project to another – eliminating the need to exchange large projects via email or file share.
The extensive version management features allow changes in a new version of project to be rolled back or updates to the original version of a project to be carried forward into new versions. Authors of the original project can configure "mandatory" elements which cannot be changed in new versions.
Adaptive-Responsive Options
Our platform offers options for
traditional fixed-stage templates with sophisticated interactions and information rich screen layouts for high-quality learning
adaptive-responsive templates in which layouts can be adapted and fine-tuned for presentation on different sizes of smaller screens
fully responsive templates where the layout automatically responds to any screen size
While these three modes are based on different templates, all projects are managed on the same platform and edited with the same editors, allowing easy reuse and repurposing of learning content and media with the same set of familiar tools.
Localisation
The CBTL production platform enables a structured, fast and flexible overall workflow for the creation and localisation of e-learning projects.
Real-time collaboration:
Multiple authors can simultaneously work on one project
Integrated project management tool for task management
Real-time review:
Integrated communication system for review/feedback
Select between a "Test" interface (with messaging function) or an editing mode (e.g. "Translate" mode for the correction of typos or translation errors)
Time-efficient localisation:
Translation interface (translation directly in the course) and XLIFF-based workflows with external translators are possible. All text elements, including narration scripts, image hints, etc. can be managed in these processes.
Media used in the course can be defined as language-dependent and managed as part of localisation processes.
Updating of higher-level elements (e.g. layouts, menus, help and navigation elements) can be done in one project for all language versions. Version management can be used to take account of variations to the structure, functionality and content that may be required for specific localisations.
Contact us
Do you have any questions or are you interested in the above topics? Then please contact us.